Chris: 'Hearing' helps with healing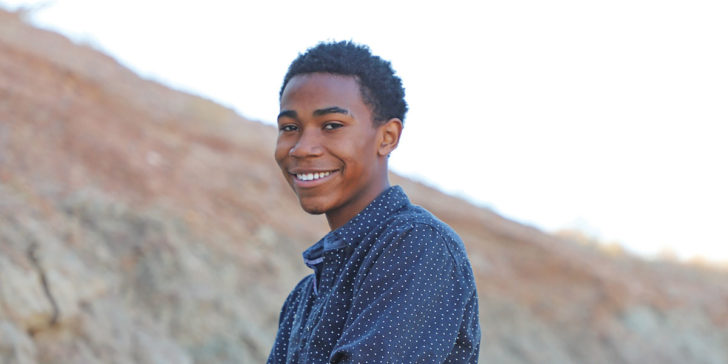 "My hearing got well when I came here," said Chris, referring to his arrival at Boys Ranch in July 2017.
It's just one of a few almost-comical observations this 15-year old makes about his eight months at Cal Farley's.
This tall, handsome young man with a smile a mile wide says it was about age 12 when he began to 'lose his hearing.'
Oh, but Chris doesn't suffer from hearing loss.
He simply didn't listen to his parents. It was even harder for Chris to hear — and follow — directives given to him by authority figures at school. His bad habits were multiplying, and his grades were sliding backward at an alarming rate.
Chris' adoptive parents did all they knew how to do to change his behavior, but when their compassion and patience was totally exhausted, they turned to Boys Ranch for help.
"Before I came to Boys Ranch, I was basically arguing with my parents all of the time," Chris admits. "I was fighting, talking back to everybody. I was just really disrespectful."
Initially looking forward to a break from people when he came to Cal Farley's, Chris is instead making connections with new individuals, and enjoying some positive results.
"At first, I was still really disrespectful," he admitted. "A lot has changed. I thought about things and said to myself, 'They haven't done anything to me, so why am I treating them like this?'"
It has taken Chris some time to adjust to life in the country. He is taking small steps each day and is a happier person than he was just a year ago. Through the encouragement of his caseworker, Arian Parr, he's helping coach a pre-adolescent soccer team and he occasionally goes hiking with another young man in the home.
Chris finds fun and friendship in the activities. His Boys Ranch caregivers know these interactions teach positive relationship-building skills Chris sorely needed.
He feels connected to his houseparents, too. He even points out he and his roommate have the neatest room in Henry Home. Chris likes the opportunity to keep his room picked up and his chores done as he looks forward to a small stipend he earns for involvement in the Boys Ranch community.
"Back home, I did illegal stuff to make money," he said, smiling at the contrast.
Through the money he earns and the choices he makes with those funds, Chris is learning sound money management. His houseparents, caseworker and the staff at the Boys Ranch Bank see to that.
And, thanks in part to the positive relationships Chris maintains with teachers and peers, he is making good grades.
"School is so much easier here," he said, noting the structure as key to his success. "You can't miss school here, and that makes a big difference."
Chris' largest class size at Boys Ranch is 18 young people, with most smaller than that.
A key part of Chris' academic improvement lies with the behavioral staff and success coaches available at Boys Ranch High School. When he feels pushed to the brink, Chris looks to these individuals for help, a sort of respite to decompress.
"They put themselves in my shoes for a little bit and tell me how I could have reacted," Chris explained. "They're good at doing this. Then, they send me back to class."
With their help, Chris' grades are up and his social circle has expanded. He's enjoying things he would never have experienced in the Fort Worth suburbs.
Controlling his anger is still a challenge for Chris.
"He's still learning how to express his emotions in healthy ways," Parr explained.
One of the ways he's found to regulate himself is to visit the Community Garden.
"I'm always really happy to see the goats," said the stylish city slicker, still awaiting his first opportunity to ride a horse.
He's so comfortable in the barn now, he recently took Parr there to see the goats, coaching her in touching a pig for the very first time. Four kid goats recently were born, and Chris has especially enjoyed spending time with them.
Happier, learning to know himself better and enjoying a much-improved relationship with his parents, it seems Chris is well on his way to healing that 'hearing problem,' indeed.