Digital Arts group: From ideation to creation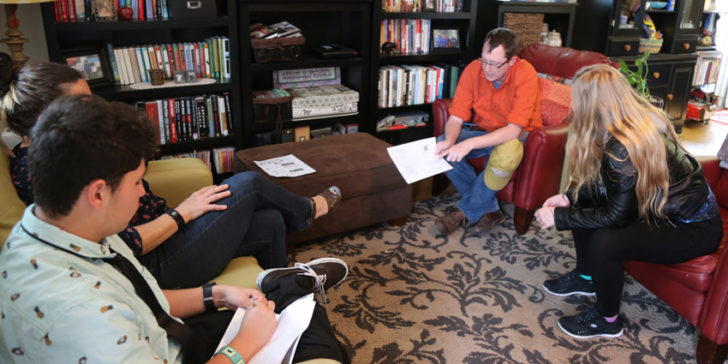 "All kids need to have some experience and marketable skills when they leave Boys Ranch," explained Rachael King, program and curriculum designer at Cal Farley's.
As instructor for the Digital Arts course within our Experiential Learning Program, King is always looking for ways to expand her students' skillset. E.L.P. allows Cal Farley's youth to gain real-world skills in a broad range of vocational fields, from traditional trades like woodworking, to the latest high-tech fields such as robotics and rocketry. When the opportunity to design a logo for a professional artist (and Boys Ranch alum) presented itself, King saw the experience as a perfect addition to her students' growing digital arts portfolios.
"I went around looking for someone to help me design a logo, because I don't have that particular set of skills," said artist Jordon Brockman. "In putting that request out there for anyone that might know someone, my mother, a Cal Farley's employee, set me up with Rachael, and we came to an agreement to let her students get that experience."

Digital arts students Kirsten, 17, and Chris, 15, had never undertaken a project of this scale, much less worked with an actual client. In the beginning, they weren't even sure what designing someone's logo, the face of their company's brand, entailed.
"I thought it was kind of a mascot," Kirsten explained. "What I learned is that it's the simplest thing you can break something down into."
Yet, that's exactly what Cal Farley's Experiential Learning Program is about: breaking down complex, intimidating ideas, and turning them into hands-on experiences that can inspire our youth to consider career possibilities they didn't even realize were open to them before.
Over many video conference calls with Brockman, Kirsten and Chris began piecing together the style their client wanted to see in his logo options: something representative of and cohesive with his own sculptures of glass, wood and leather. Kirsten immediately began sketching some mock-ups, while Chris took another route.
"We went online and looked at the designs he usually puts in his work," Chris said. "He likes using 'X's and stitching in his designs, so we cut out 'X's and printed out 'Product 127' and arranged it in different orders."
From original concepts to revisions to the bidding process, the students learned the process professional designers go through with their clients. Though arduous and sometimes a bit frustrating, the final product was worth it.
"What they finally landed on looks pretty sharp," said King. "Pretty sharp."
As 'payment' for a job well done, Brockman treated the designers to homemade lasagna.
"It gets them the experience, and it gets me a logo that's very affordable," Brockman said.