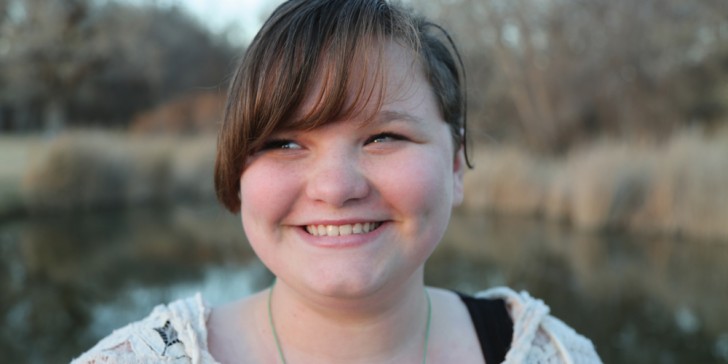 It's been said that change is the only constant in life, but for many people that change is very difficult to accept.
Such was the case for Brooke. Her parents had separated when Brooke was very young, and she'd lived for several years with her mother before eventually moving into her father's home north of Austin, Texas. Brooke was trying to adjust to sharing a house with siblings. Then her father remarried. Not only did Brooke have to adjust to a new authority figure in the house, she also gained a new stepsister.
"I'd been living with my dad for three or four years … I wasn't used to having a stepmom,"
Brooke said. "I wasn't used to having brothers and sisters in the house, so I did anything I could to get attention."
The home grew again when her parents had a child of their own. For Brooke, it was too much.
"Sometimes we'd have heart-touching moments, but most of the time it (was) just arguing," Brooke recalled. "It was too many people in a small room."
Brooke felt lost in the crowd, and worse, resentful of her new stepmother. She said she
occasionally tried talking to her father, but their schedules often conflicted. The bitter loneliness continued.
"I was stealing, I was disrespectful to my parents. I did anything I could to get in trouble," she said. "I was getting really bad grades. I wasn't paying attention (at school)."
Her stepmother found out about Cal Farley's, and called for help. Julie Skarich, who works in Cal Farley's Austin office, has worked closely with the family during Brooke's time in our care.
"Brooke's parents have been very actively involved … during her placement," Skarich said. "They continue to work very hard."
While Brooke settled in at Boys Ranch, a Cal Farley's residential program where she said she was warmly welcomed by her houseparents and roommates, Skarich worked with Brooke's family to help lay the groundwork for their eventual reunification.
"They've done a lot of education on developmental levels," Skarich said. "We've talked about making connections in the brain, and how kids make connections. Then, there's been some conflict resolution."
While her family has been diligently preparing for the day she'll return home, Brooke has been enjoying everything Boys Ranch has to offer a 14-year-old girl, and expressing her love for art.
"I do arts and crafts in the home," she said. "(Each resident has) their own little drawers for arts and crafts."
There also are pottery and dance lessons. Brooke's favorite activity, though, is horseback riding.
"I love it, because it relieves stress," she said.
While such activities are certainly fun, each has a therapeutic purpose, helping a child learn to release troubling emotions and gain a better control over his or her own responses to situations.
While Brooke has been with Cal Farley's less than a year, Skarich said the healing taking place for this family is readily apparent.
"Their willingness to work hard … to see the change in such a short period of time … This is really in the win column."
A family made whole and given new hope for the future – it's the embodiment of Cal Farley's mission: It's where you're going that counts!