Brendon: 'The hands of God'
Early heartache inspires Brendon to find his true calling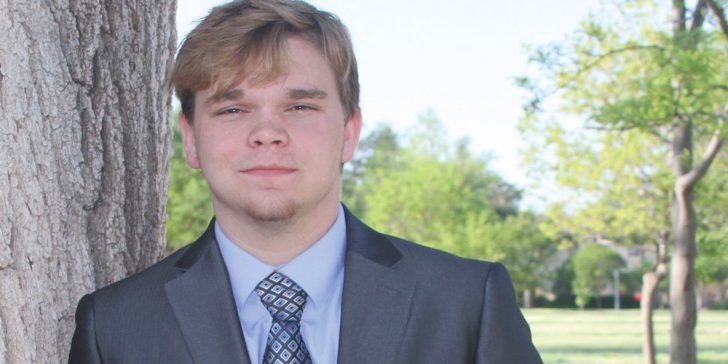 "When I was younger, I thought paramedics were the hands of God — because they gave people second chances," said Brendon, 18.
Brendon, a Cal Farley's alumnus, hopes to be those 'hands of God' himself soon, too.
"I just really want to help people. I've been taking care of my mom since I was little," he said. "So, it's kind of what I know to do — to take care of people."
So far, Brendon's on the right path to accomplish that childhood dream. He recently graduated from a certified nursing-assistant program. And, he'll use that certification to get a job as he works to become a paramedic.
It wasn't that long ago that Brendon needed a second chance of his own.
"I wasn't making the right choices," he said. "My mom was always sick, and my step-dad was always at work. So, I didn't really have anybody (at home). I took advantage of that to go do what I wanted. I wouldn't listen to my parents at all … (We fought) about everything."
In fact, Brendon's mother had been sick most of his life, often bedridden from a debilitating condition. To make matters worse, after having multiple surgeries, Brendon's family was told his mother might not have more than a few years to live.
Brendon's future looked very bleak as he wrestled in his mind with the person he hoped to be and the anger, the pain he couldn't get under control. He simply refused to follow his parents' rules.
In his freshman year of high school, Brendon said he began to skip classes and often stayed out all night.
Brendon's parents pleaded with him, worried about the future he was creating for himself.
"I didn't care," he said. "I was not going to school … I had three Fs and so many Cs."
Despite his parents' pleas, Brendon's behavior was not changing. They could see he had given up on the idea of finishing high school. They needed to find a solution.
And, they found one at Cal Farley's.
Brendon said he quickly settled into life at Boys Ranch, and started to see improvement. He and his mentors saw how the routine of going to school and participating in athletics and other activities on campus helped improve both his behavior and academics.
With emotional support and some much-needed structure, Brendon began working to overcome his anger — and improved day-by-day. At the beginning of his junior year, Brendon entered Cal Farley's credit-recovery program to make up all the school credit he was missing.
"For me, it was great," he said. "I absolutely loved it. It's like school, but the teachers are there to help you do it at your own pace."
As he completed each lesson, Brendon could see his achievements building. And, that motivated him in other areas. He looked forward to training for his favorite activity, wrestling, at the end of each day. The time spent training with his Boys Ranch mentor and coach meant a lot to him.
"He was one of the closest (bonds) I had," Brendon recalled. "Every time I talked to him, it made me want to strive to be better … He just wanted us to do the best that we could."
Having strong support, both in and outside the classroom, motivated Brendon in the credit-recovery process. In fact, that motivation not only encouraged him to regain his credits, but soon he and his mentors were considering another opportunity for Brendon.
"I worked ahead and graduated early," Brendon said.
Brendon had so fully applied himself to his studies, he earned two years of school credits within one semester in the credit-recovery program.
"
I'm just appreciative of Cal Farley's. I'm grateful they had (the credit-recovery program). It helped prepare me for independent life. I would not be this far without them.
After receiving his diploma, Brendon carried that momentum and motivation into his college courses, completing the C.N.A. program in just four months. Soon, he'll continue his journey to become a paramedic by enrolling in his local fire academy and the emergency medical technician course to receive his E.M.T. certification.
Brendon is not only grateful for all Cal Farley's helped him accomplish, but for the chance to have his mother live to see him achieve all she hoped he would.
"It was hard seeing (my) mom always sick," Brendon said, describing how important it is to have her be a part of his accomplishments. "That is why I do the things I do. It's what my mom wanted … for me to graduate."
Brendon has come a long way in a very short period of time, and he is grateful to Cal Farley's supporters for giving it to him.
"I'm just appreciative of Cal Farley's," he said. "I'm grateful they had (the credit-recovery program). It helped prepare me for independent life. I would not be this far without them."