Ava: There's life after loss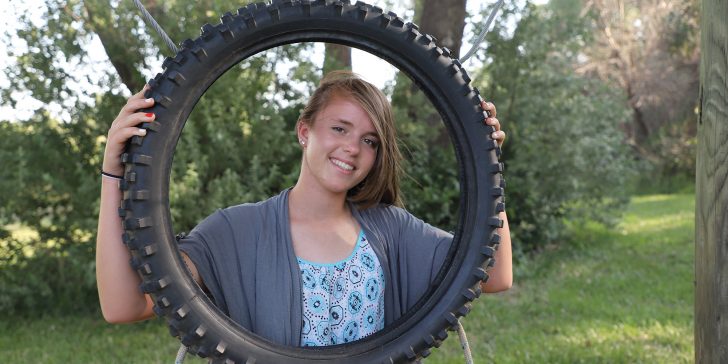 Boys Ranch a place of self-discovery for Ava
"My birth mother promised to return for me one day," said Ava, 17, recalling the Ukrainian orphanage where she spent her early life. "I was four or five, and she came to see me and gave me gifts … I've never seen her again."
Eight years after watching her mother walk away, Ava was thrilled when an American family chose her to join their family. Several of her Ukrainian friends were adopted at the same time, all joining families in the United States. For Ava, a dream was coming true.
"I was kind of excited, but sad at the same time — sad to leave my friends, but happy I was getting adopted and would have an actual family," she said.
Sadly, Ava's dream of a happy family life wouldn't come easily.
She never felt a sense of permanency. While she had learned great survival skills at the orphanage, she lacked the relational skills to connect with her new family. Because she didn't understand her role, she often bucked the rules of the home. Daily conflict, primarily between Ava and her new mother, exhausted them. Both hoped for an attachment to form. It just didn't.
"I got into fights, mostly arguments with my mom, all of the time," Ava said. "We fought over stupid things. I couldn't be what she wanted me to be."
For two years, Ava was a square peg squeezing into a round hole.
Ava felt misunderstood and confused. She grew increasingly depressed. Her bed became her safe place.
A family friend recommended Ava's parents consider Boys Ranch and encouraged Ava to look at the website, calfarley.org, and read about our programs.
Ava quickly knew she wanted to join our healing community and asked her mother to bring her to Texas. The reality surpassed their expectations.
"This place is so much better than she or I thought it would be," Ava beamed.
At Boys Ranch, Ava feels like she belongs. She's made many friends and enjoys the opportunities she's had for self-discovery, which have helped her find talents she didn't know she had. She is playing sports and says tennis is what she likes best.
Willing to try anything, Ava pursued an Experiential Learning Program assignment in the meat-processing area at Boys Ranch, the only girl to ever do so.
"It got boring," she laughed, "so I had to find something else to do." She spent this past summer learning about pottery instead.
Ava is doing very well in school and she's embraced being part of a home with 11 other girls; perhaps because it is most familiar to her, having spent so many years in an orphanage. Trusted adults work regularly with her to build trust and help her feel secure.
"I encourage her to be very proud of herself," said Belinda Allen, Ava's house mother, regarding her desire to try new things. "She sees something she's never seen before, and she wants to try it."
Challenges common for adopted children
Children who are adopted often experience struggles adapting to their new environments. These challenges can be even greater for international adoptions, where the child must adapt not only to a new family, but also to an entirely new culture and sometimes even a new language.
Emotional issues surrounding adoption most often present themselves in one or more of these areas . . .