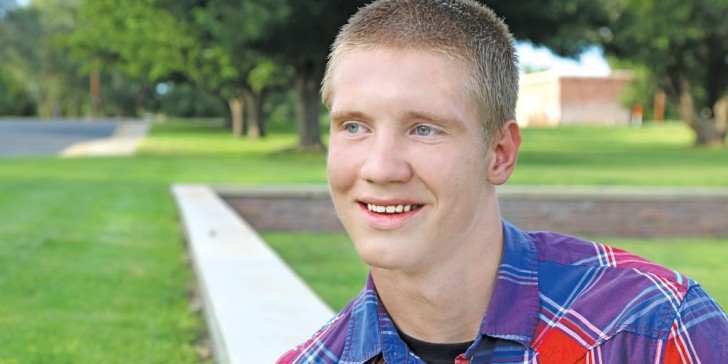 At 18, Austin is a happy young man, who is excited for the adventure his life promises after graduation.
A native of rural Texas, he's lived at Cal Farley's most well-known campus, Boys Ranch, for almost two years. He still remembers very clearly two things that made a significant impression on him about his first visit to campus — the warm, inviting atmosphere and the immaculate condition of the grounds.
"People (came) up to me, being friendly," he said of his first visit. "First coming onto (campus), all you see is green grass and cleanliness."
As Austin looks forward to graduation and life beyond Cal Farley's, he is excited for all his future holds. He's planning a brief stay in Cal Farley's Alumni Support Independent Living Center, before moving on to a career in either the transportation industry or the Army.
But Austin's future didn't always appear so bright. There was a time when, living with his large family in cramped conditions and struggling with resentment, he couldn't see much positive in front of him.
"My mom decided to take (Austin and his brother) to California for a couple of months … That was a nightmare. We were there about a month-and-a-half, and it was supposed to be a four-month (stay)."
What Austin didn't know then was that during the visit to relatives on the West coast, his parents were discussing divorce.
"Our mom never said goodbye," Austin recalled. "When we got back, I saw her car packed. She got out (of the truck Austin and his brother were in) and got in her car, handed my dad her ring and left."
Austin was 8 years old.
The event had a profound impact on the young boy, who withdrew from everyone around him.
"Not a word for a good month, month-and-a-half," Austin said. "Not even to my dad. My dad would tell me to do something. I wouldn't even say 'OK' or 'yes, sir.' I just did it."
Life hadn't been without its share of challenges before. Indeed, Austin acknowledged he fought with his mother a lot over his stubborn behavior and lack of academic motivation.
But his family's breakup only made things worse. And, later, what could have been a positive development for him instead sent him spiraling out of control.
"Three years later, my step-mom … popped into our lives," Austin recalled.
His new step-mother tried to be a positive influence, but Austin would have none of it. He resented her efforts to be a part of his life.
"She started stepping in and, from there, we were … fighting like cats and dogs," he said, describing the situation as a "nightmare."
The conflict with his step-mother quickly spilled over into his relationships with his siblings and even became a distraction at school.
"And, then, fighting with my brothers. And, at school, I was having a hard time passing."
Both Austin and his parents knew something had to give.
"I pulled my dad aside and said, 'I need (help). I can't do this anymore,'" Austin recalled.
His family considered several options, including his moving in with relatives living in Dallas or California. After a lot of discussion, Austin's father presented him with another option: Cal Farley's.
"I was kind of scared at the time, because I didn't know what it would be like," Austin said.
His father arranged an interview, and Austin went with his parents to talk over his moving to our Boys Ranch campus.
"I liked it!" Austin said.
He quickly settled into life on the rural campus, where he enjoys activities such as football, baseball, wrestling and cross country.
Like many of his peers, Austin enjoys all kinds of competition, testing his skills and athleticism against that of his friends. The adrenaline rush drew him to try out for the annual Boys Ranch Rodeo, too — once he was sure it was a real competition. (He thought his friends were joking with him about the 71-year-old Cal Farley's tradition.)
Whatever the challenge or adventure, Austin is up for anything that allows him to compete. He described it as a way to abandon life's cares and focus on the joy of sports.
"(When you're competing,) you don't argue, you don't fight," he said. "Competition is for fun!"
Aside from the thrill of competition, Austin appreciates the self-moderation and responsibility he's learned from his Cal Farley's mentors, noting he feels he can share anything with his house parents. He still remembers his former lack of motivation in school and in life, and said he was used to making promises he knew he wouldn't keep. The firm, but gentle expectations he found at Cal Farley's showed him the importance of doing what he's said he would do.
"It flipped to where it's easier to (keep my word), and I'm actually happier that (my attitude) changed."
Austin is grateful for the many life skills he's learned in his time at Cal Farley's, and for the loyal supporters whose commitment has ensured Cal Farley's could help him — and can continue to reach so many more like him.
"I love (Cal Farley's)." he said. "Boys Ranch has helped me and changed my life so much!"