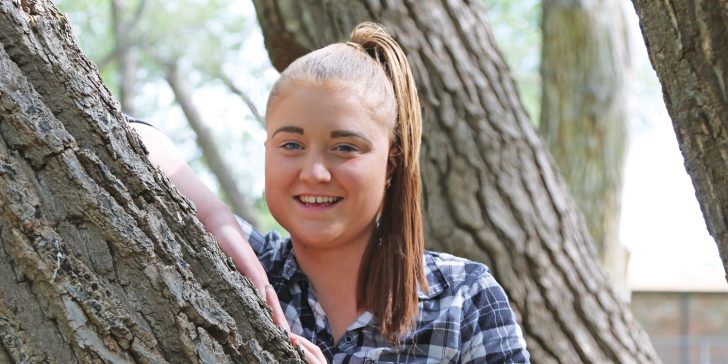 For Anna, 17, Cal Farley's has been an important second chance. It's also the most recent of two important second chances in her life.
"I was adopted when I was seven," Anna recalled, sharing the first time she got a much-needed fresh start.
By that time, the young Vermont native already had experienced her share of chaos. Anna and her younger sister, Sarah, had seen the ugly effects of substance abuse in some of the worst ways possible. She recalls living in at least four homes by the time she was five, and shuddered explaining some troubling experiences while living with her sister's father.
In the midst of it all, though, a fortunate series of circumstances offered Anna and her sister an opportunity to live a more normal life.
"(Sarah's father) dropped us off at these people's house to go to church, because 'good people go to church,'" she recalled him saying.
This simple act put the girls on a path that ultimately led them into the care of a loving family who made Anna and Sarah a part of their family.
By the time Anna reached the fifth grade, though, it was clear she was struggling to connect with her parents. Deep inside, she hoped to live with her biological mother once she was released from prison. Instead of embracing the family that chose her, Anna turned away.
"We don't really have a relationship," Anna admitted, describing the current rift. "I haven't handled things in the best way."
Anna acknowledged struggling with the truth, disrespecting her parents and even stealing at times. But, her troubles went beyond these struggles at home. Her outlook on school was equally bleak. She had to repeat first and fourth grades and, despite frequent after-school tutoring sessions, Anna wasn't progressing as she should've.
"I was always failing … I had to take and retake tests. (My teacher) would always call on me and I wouldn't know the answer," Anna said, meekly.
Anna's parents tried to get her the help she needed, but grew understandably frustrated with their daughter's behavior and academic struggles. As they searched the Internet for someone to help their daughter, they found an organization that appeared to be just what they needed. It was a place where young people could heal and change their lives' direction.
It was called Cal Farley's.
"
"Don't use your past as an excuse for your future. Overcome it. You can be different!"
Anna was excited by the thought. She and her family looked at Cal Farley's website, www.calfarley.org. There, she learned all about Cal Farley's residential campus, Boys Ranch. And, she learned, they even offered a program to help her catch up to her peers in school.
"I was two years behind," Anna explained.
At Boys Ranch, Anna has received the help she needed to succeed in the classroom.
"It's helped me a lot," she said. "It's more individualized … the teachers will work one-on-one with you. They do that a lot with me."
In her first nine months at Cal Farley's, Anna made up an entire year of school, and plans to continue that pace in the coming year. More important than Anna's school work, though, is the change beginning to take place in her outlook on life.
"You feel good about yourself," she smiled. "I used to dread going to school because I was the slower one. I always failed everything. But, (Cal Farley's) helps you to relax and find success."
Her newfound success in school has paid off in more ways than a renewed self-esteem. By taking the stress and fear of failure out of her school life, Anna is able to focus on other therapeutic goals. Among the goals Anna's mentors at Cal Farley's hope to achieve is helping her to rebuild a strong relationship with her family.
"I wish from the beginning it could have been 'normal,'" Anna said.
But, where Anna may not yet see hope for happy relationships, her house parents, caseworkers and others are helping her see these things develop over time, and require commitment from her, too. She's learning the importance of respect in relationships, and she's seeing respect modeled by the people around her.
"Like parents, they care for you on a different level," Anna said of her Cal Farley's mentors. "My caseworker … helped me a lot with my home life and with my parents. It's been the main challenge … why I'm here — to catch up (in school) and be successful in life."
Anna said that success, for her, started with school — and with the words of wisdom from one of the teachers helping her catch up on her academics. The words, she said, embody her goal as she changes, one day at a time, into the responsible young woman she wants to be.
"Don't use your past as an excuse for your future," Anna said. "Overcome it. You can be different!"