ANGEL HAS ALWAYS HAD A LOT OF ENERGY; it just wasn't channeled in the right way. And that became a huge struggle at school and at home, especially when Angel was being raised by a single dad.
Her mother "was just in and out of my life," Angel says.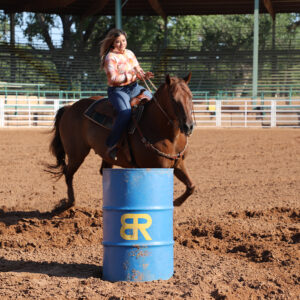 "At one point, me and my dad didn't have anything," Angel says. "So, he would work like 12 hours a day, and I would never see him. I would walk to school, walk home, eat, and then someone would pick me up, and I would go stay with them for the day."
All of that time being alone and lonely was not good for Angel. "I started to lose control. I started to get into all kinds of fights and into trouble. I hung around the wrong crowd. I would never be at school. I just kept leaving and wouldn't try to be there. I had a messy, messy, messy life," Angel confesses.
But something changed when she moved to Cal Farley's Boys Ranch. Now a junior, she has been here for nearly two years. For those who knew her before, Angel is a totally different person. She's responsible and very involved in academics, which is a stark contrast to her life before.
In addition to her core classes, Angel is actively involved with several Experiential Learning Programs (ELP), including graphic design and cosmetology. Both fit perfectly with her artistic gifts and encourage her to excel where she is strongest. This is the Boys Ranch approach to learning: We seek to discover the promise in every child we serve and are committed to helping kids like Angel achieve it.
With a sense of excitement, Angel says, "I've known what I wanted to do since I was young — to do graphic design as a profession." Thanks to your generosity, Angel's dream is beginning to come true at Boys Ranch.
Academics and experiences are only good if a young person is willing to grow. And Angel was willing and eager. "My attitude, I feel like, changed a lot, because now I can actually think before I say things. I review the situation and try to figure it out," she says.
Angel's whole perspective has changed to one of determination. "I also feel like, instead of just giving up right away and then going and doing something else, I feel like I can stick around and try to figure it out. And then, instead of me being unopen, un-trying, unwilling, I became like an open box, trying everything. I actually enjoy doing everything," Angel says with a big smile.
Angel is also learning about agriculture in her Future Farmers of America (FFA) classes. She got her pig in October, a Duroc named Josue.
"I like having my pig because I enjoy taking responsibility for something like an animal or a person or something. It keeps me in check, I guess you can say. It gets me back to reality like, 'Hey, you have to go do this thing. Be responsible for this. Now do it.'"
Thanks to your generosity, we're able to provide students like Angel with a chance to enjoy raising a pig and learning what responsibility is all about. We couldn't do it without you.