Andrew: December 2014 Graduate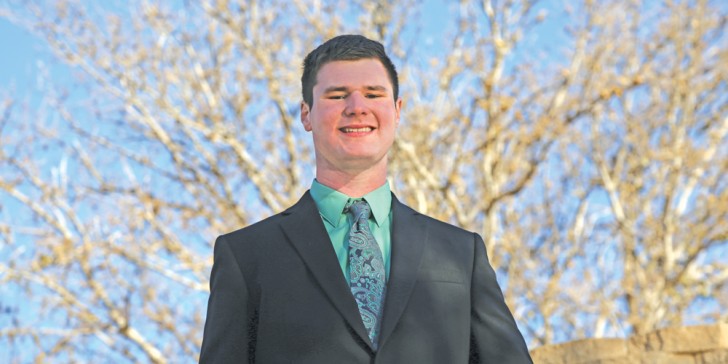 Completing high school is an exciting time, a milestone promising new experiences, such as finding a job or going to college. It also means having faith in the opportunity it can provide.
Andrew, 18, and a December graduate, said he had a similar experience coming to Cal Farley's – a chance to create a brighter future and make positive memories while receiving the help he needed.
Before coming to Cal Farley's, Andrew said he felt lost in his gargantuan Arlington, Texas, school.
"(I was) just a small fish in a giant pond," he said. "I don't think my grades would be what they are now. I was so stressed (before Boys Ranch)," he said, considering what his life might have become had Cal Farley's not been there. "I would have never played a sport, never thrown a football."
Before coming to Boys Ranch about four years ago, Andrew said he likely appeared to be a normal boy to his teachers and peers. But they didn't see his struggles at home, where he frequently found himself at odds with his parents and struggled to control his anger.
"We could never get along. We always fought," he recalled. "I knew … I needed help, as well as my family. And they realized that they could not handle me on their own."
Boys Ranch, a Cal Farley's program, was that help — a place to learn how to deal with difficulties.
"(Cal Farley's) helped me realize that you're going to have struggles," he paused, "But the skills (Cal Farley's is) going to help you learn (are) going to make those less hard to face."
Mike Whitecotton, a Boys Ranch administrator who took an active interest in Andrew's life on campus, said Andrew's experiences at Cal Farley's have well prepared him for independent life.
"He's really smart," Whitecotton observed. "I think his honesty and hard work and openness (will help him succeed)."
At Boys Ranch, Andrew gained a new understanding of how his interests can help him shape a positive future for himself. As he explored the many Community-as-Lab and vocational training programs, Andrew gained hands-on experience that have helped him sharpen his skills and identify potential careers.
"I want to be able to work with my hands," he said, shaking his hands with conviction. "I want to be successful. I not only want to be happy, but love what I'm doing."
Having traded anger and fear for hope, Andrew plans to attend college in the fall. It's a promising journey he'll continue because Cal Farley's supporters gave him a new path to follow four years ago.
"Their generous donations have made a difference," Andrew said. "I've always appreciated that it takes a lot of time and effort to put this place together and it couldn't have been done without all of them."