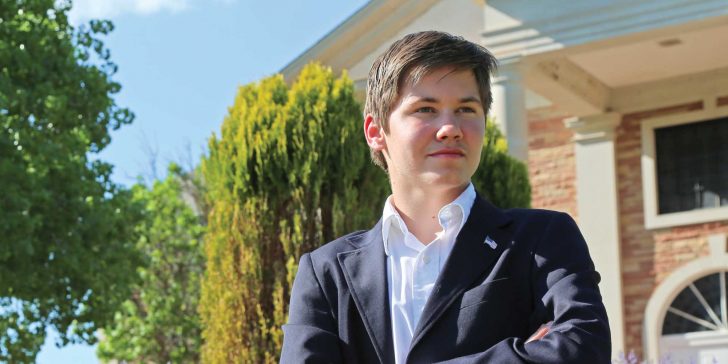 "I can't lie as well as I did before. I just start smiling," Andrei, 13, said, reflectively. He paused a moment, then added, "That's a good thing, actually."
Actually, it's a very good thing.
Andrei, who's lived at Cal Farley's Boys Ranch campus a little more than a year, has learned much about what motivated his old behavior, the very behavior that prompted his therapist to recommend his family explore placement.
"What I've learned is that if you lie, all those lies are going to catch up with you," he said. "So, if you're honest, (the consequences are) not going to be as bad."
Andrei and his brother were adopted when they were just 5 years old. He doesn't remember much of his life before coming to his new home in Oklahoma. What he does recall very clearly is that his brother didn't adapt well to his new family.
"Before Boys Ranch, I must say (life) wasn't that great," he said. "There was a lot of arguing, a lot of yelling."
His family sought counseling and eventually reached out for help with Andrei's brother. After his placement at a facility for more specialized emotional care, Andrei and his family, for a brief time, experienced a taste of healthy family life.
But, it didn't last.
As hard as things had been at times, Andrei had grown accustomed to the chaos, and felt himself compelled to maintain the disruptive behavior that had been modeled for him.
"I'm not saying it was always like that — there were some good days," he said, adding that "good" didn't describe most days. "I just kept it (chaotic) like that."
Andrei took advantage of his working parents' busy schedules. His father's work kept him away much of the time, and Andrei ignored the curfews his mother set for him after school, occasionally taking things that didn't belong to him and, when confronted, lying about where he'd been or what he'd done. As a result, his parents worried about where his life was headed.
"I ran away a lot because my mom had work. She didn't come home a lot until 7 or 8-ish," he said. "I think it was hard for her, because she would always be at work."
While he took advantage of unsupervised time at home, Andrei found at Cal Farley's the structure he needed to reshape his life.
"The adults are nice and they try to help you when you're having trouble," he said. "I thought Boys Ranch would be horrible, but once I got to know people, it was pretty easy. People are nice out here."
Cal Farley's offers children many services to help them identify and resolve the very individualized motivations for their behavior. Some are fairly straightforward, such as traditional counseling. Other therapeutic interventions, such as the Adventure Club, which teaches healthy risk-taking, problem solving and fosters a sense of belonging through group activities, come wrapped in a coating of fun and excitement. Whatever their purpose, Andrei quickly took to many of the activities afforded him by Cal Farley's wide-open Boys Ranch campus.
"(I enjoy) things that we do, like archery, Adventure Club," he said. "We have the Dippel (Activity Center)."
Another feature of the Boys Ranch campus held great appeal for Andrei, the auditorium. An aspiring actor and natural comedian, Andrei revels at the opportunity to perform for an audience. At Christmastime, he got his first real opportunity, performing the role of narrator in Cal Farley's annual Christmas cantata.
"I practiced every day after school," Andrei remembered. "It was three months of practicing. I was very proud of that achievement."
Andrei worked hard, memorizing his lines in time for the performance. It was a memorable experience for a young man whose dream is to entertain audiences and make them laugh.
"That's pretty much what acting is. You get to create another person and be another person," Andrei said. "That's what I like about it."
Outside his extracurricular pursuits, Andrei's time at Cal Farley's has paid off in the classroom, too, where he earns As and Bs. The year or so Andrei has spent at Cal Farley's has been an exciting time, and an eye-opening experience. He's improved his outlook on life, gotten a taste of a possible career as a thespian, learned some valuable lessons about truth and formed some important relationships with his Cal Farley's mentors.
As Andrei reflects on it all, his thoughts turn to the future, and all the possibilities ahead of him. Asked to contrast his future with the past, Andrei's response was succinct: "I'm going someplace better."
A young man who knows his challenges, and is determined to make his future a better place — that's what Cal Farley's is all about.