Salvador: Prepared for hard choices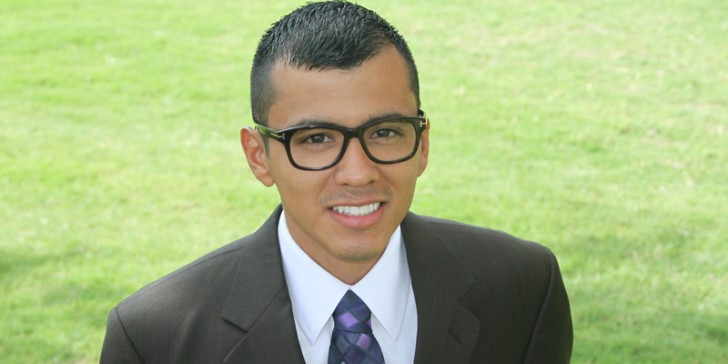 For more than 75 years, Cal Farley's has given children and families the tools they need to overcome difficult life circumstances. When a child leaves Boys Ranch, he or she is equipped to become a self-sufficient member of society.
Like anyone, though, having the necessary skills doesn't guarantee a trouble-free life – only that when troubles arise, he or she is prepared to make healthy choices to effectively deal with them.
One of 10 siblings, Salvador often had felt invisible in the troubled crowd of his own family.
"I was … lost," Salvador recalled of life before Cal Farley's. "I knew I needed to get out."
Seeing loved ones struggle was a familiar sight for Salvador. It was a path he wanted to avoid, but as he grew older, he found himself making poor choices and spending time with the same troubled friends as his brothers.
After a friend recommended Cal Farley's to his mother, Salvador came to Boys Ranch in his 8th-grade year seeking stability and a place where he could chart a healthier path for himself.
"He knew his family was unable to provide educational opportunities for him, and he had watched family members struggle," said Kim Reeves, Cal Farley's alumni support administrator. "He wanted something better, and he knew that in his case, his best shot was placement at Boys Ranch."
At Boys Ranch, Salvador made lasting friendships and found the guidance his life was missing.
(Cal Farley's staff) would let you know not what you wanted to hear, but what you needed to hear," Salvador said. "They really opened by eyes to a whole new world."
Salvador eventually returned home, where he graduated high school in 2005.
Soon, he was in a stable relationship, working and enjoying life as father to a son, Salvador Jr. He acquired a job in Cape Girardeau, Missouri. With a stable career ahead of him and a beautiful family, Salvador thought his journey to success was complete.
But sometimes the road to happiness can get a little rocky.
Within two years, Salvador was single and living alone. His son was living with his mother, who had returned to Texas, and Salvador was struggling the demands of his career in Missouri and his desire to be near his son.
Then he received a phone call that changed everything.
A man who knew Salvador's son called him to warn him that the boy's mother had been overcome by her own struggles and was not adequately caring for Salvador Jr.
"She ended up calling me, too" Salvador said. "She was crying and saying she couldn't (care for their son) anymore."
Heartbroken, Salvador immediately drove to Dallas to retrieve his son. He was awarded full custody of his namesake and, determined to be the best father he could, Salvador decided to continue his education so he could be a better provider.
"A lot of people asked me, 'How do you manage it, because you're so young,'" Salvador recalled. "But, you have to grow up. It's not just you anymore. There's no choice, it's just what you have to do."
It was a challenging time in his life, but Salvador said the caring staff at Cal Farley's provided him an anchor to cling to during a very stormy time. Reeves said it also was a time that reassured her the values Salvador leaned at Cal Farley's would carry him through — and be passed to his son, too.
"Salvador was a single father who was working and attending school. In spite of his hectic schedule, he took time to ensure his son had everything he needed," she said. "I was so proud of him … and I've continued to take pride in the decisions he's made for his family.
Today, Salvador and his family are taking the next step in their life's journey. Salvador recently was accepted into a certified registered nurse anesthetist program in Providence, Rhode Island. He's due to complete his studies in 2016. He's filled with hope for the life that awaits his family, and gratitude for the people he says made his success possible – Cal Farley's supporters.
"I wouldn't be here without them, he said. (Their support is) appreciated and being well-used. It really does make a big difference."