LaTonya: Choosing a new direction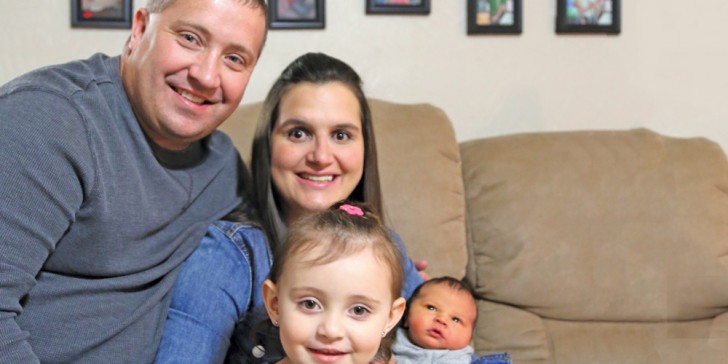 Happily married and having just given birth to her second child, LaTonya is proud of the path she's chosen for her life.
It's a trajectory far removed from that of her youth. Like far too many children today, LaTonya began a journey she never would have chosen for herself.
"Their relationship was very … unstable," she said of her parents. "It was a very rocky relationship."
LaTonya recalled the violence that accompanied her father's substance-abuse problems. When she was 6 years old, it became too much for her mother to bear.
"In 1991, they split up and we moved to Oklahoma City."
But things didn't get better. In fact, LaTonya said, that's when life took a very dark turn.
By the time she was 11 years old, LaTonya had experienced a terror no child should ever have to face.
Soon, her mother and her mother's boyfriend were imprisoned. And, while her father regained custody, he also was still fighting his own battles. As a result, LaTonya, her sister and their father moved in with her grandmother. Her love for the girls was supreme, but the role of household provider was not a burden LaTonya's grandmother was able to shoulder.
"She (was) … pretty close to retirement, and she would walk (to work) every morning," LaTonya "recalled. "Trying to raise two kids who were (coping) with a traumatic event … it's difficult on minimum wage. You just don't have it, you're not making it."
Between financial hardship and the lack of structure created by the necessity of her grandmother's work, LaTonya was in very real danger of falling through the cracks.
"(Grandmother) would try to get us up in the morning, but I just didn't want to go to school," LaTonya acknowledged. "So, my attitude – at 12 years old – became 'well, I don't care; why does it matter?'"
Armed with a poor attitude about life, LaTonya quickly transitioned from skipping school to disappearing with friends for days at a time.
"We'd skip school and go smoke … drink … those actions that kids tend to take when they're at that point in their life that they just don't care," she remembered.
Yet even as she proclaimed her apathy, LaTonya knew she was meant to walk a better road.
"Inside, I … I didn't want to be there, I didn't want to do those things," she said. "It was just more of a comfort thing … finding something to fill those voids."
Meanwhile, LaTonya's grandmother had seen enough of her drifting through life without direction. She was familiar with Cal Farley's through a distant relative. After calling to seek help, she shared the decision with her granddaughter.
"I was ecstatic," LaTonya said. "I knew that was the only opportunity I had to change my life."
And change it she did.
"How do you describe moments like (coming to Boys Ranch)?" LaTonya said, comparing the change to having her first child. "Your life is about to change! How it changes is up to you."
LaTonya credits her nearly six years at Cal Farley's not only with providing focus to her outgoing, risk-taking nature, but with literally saving her life.
"(Without) the structure, the discipline," she said, "I'd be dead … that's the direction I was headed."
A person of faith, LaTonya said she believes Cal Farley's was God's way of intervening in her life.
"I had prayed a lot – I was making (poor) choices, but I was praying that God would save me, protect me (from myself)."
After graduation, one of LaTonya's Boys Ranch mentors helped her locate an apartment and guided her through purchasing her first car as she prepared for college out of state.
Initially, though, LaTonya's university experience was short-lived, as her sister found herself in need of help. Determined to show the loyalty Cal Farley's had taught her, LaTonya made the difficult choice to give up her Cal Farley's scholarship and move home.
She enrolled in a local college to work on core classes, and secured work at a nearby child services organization.
"I worked there for almost seven years … and started school, finally got back on track."
LaTonya said the idea of delayed gratification, instilled during her time at Cal Farley's, helped her push through those early years of independence.
"I was willing to make sacrifices, and I think that's why I was successful …. There were times I didn't have insurance on my car, so I rode my bike."
At first, LaTonya struggled a bit to balance the necessities of life and, knowing Cal Farley's is supported by generous donors, she was hesitant to ask for more help. She'd viewed giving up her scholarship as wasting donors' money, and she didn't want any part of doing that.
No, she decided she'd wait until she knew she could finish school. About a year later, she was ready and reapplied for scholastic assistance.
"The first thing they asked me is, 'What took you so long to ask?'" LaTonya laughed. "But, I wanted to make sure I was really committed. It's not fair to come ask (for) this, if I'm … not going to be determined to finish."
With a renewed passion and the assistance of a Cal Farley's scholarship, LaTonya charged through school, earning an associate's degree, then her bachelor's. In 2013, she completed her master's degree in social work.
"Just sitting back, looking at how far (I've) come is amazing," LaTonya marveled.
It was while she was working her way through school that LaTonya met James, now her husband of nearly five years. The relationship literally was an answer to prayer.
"I believed that God would always provide for me," she said, describing how she prayed she would meet someone at the organization where she worked or a specific local store.
As it turned out, both requests were answered.
One night, as LaTonya was studying for final exams in the store she'd referenced, she approached the counter to purchase a cup of coffee. A co-worker walked in and, after exchanging some small talk, offered to pay for her coffee. They sat together as she studied, getting to know one another. Less than a year later, they were engaged.
LaTonya said her experience at Boys Ranch prepared her for independence and gave her the communications tools to help her establish healthy relationships. But Cal Farley's also places an emphasis on familial relationships, so what of her parents?
Shortly before his death of cancer, LaTonya was able to rebuild her relationship with her father, who had overcome his addiction.
"Love overtakes everybody …. I loved my dad," she said. "And, at the end … everything was great, and our relationship had changed."
In 2012, LaTonya's mother wrote her a letter about a prison program in which she was participating, and asked LaTonya to come see her. Though there still was some hesitation, LaTonya wanted to deliver a message to her mother: You are forgiven.
"I don't know that I ever told her," LaTonya said. "And, until you let somebody know, it's kind of hard for them to get it."
As LaTonya observed, she has come a very long way. Hers has been a journey through pain and anger into determination, love and forgiveness.
And, LaTonya said, Cal Farley's has shaped the woman she's become — and it's a strong part of who she is, even today.
"I can't describe my life without (Cal Farley's) being a part of it," she said. "It … just dramatically changed my life."
Can you help young people like LaTonya?
There are many boys and girls in our care who will go onto community college or vocational training with the skills they've received while in our care. Our second annual Donor Match Challenge helps raise funds so that the young people leaving our care will not have to worry about the financial burden of furthering their education and training to pursue well-paying careers!
And, when you give, your gift will go twice as far with a match up to $250,000!
That's half a million dollars that will go to helping our young people pursue their dreams!