Aliyah: Faith that changes circumstances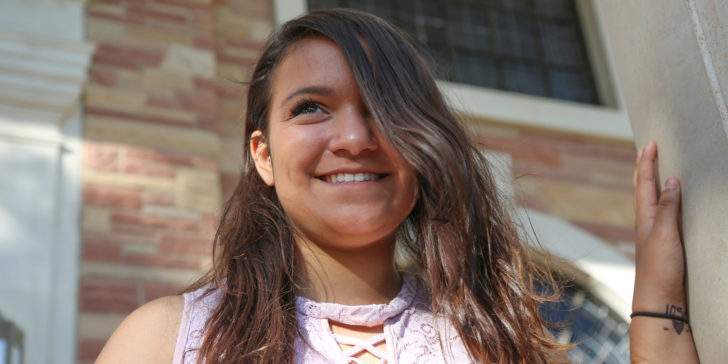 "
I think Christmas is a time for us to come together and celebrate what God has done for us.
By day, the four children walked the streets of their Central Florida community.
As the oldest among her siblings, Aliyah, acted as caretaker. By night, they would beg for a place to sleep from one family friend or another. Sometimes, Aliyah, remembered, they would just lie down under a bridge.
This was a periodic reality for Aliyah, now 14, as her family drifted between one rental and the next, all too often without anyplace to bridge the gap. Aliya recalled that when they did have a consistent roof over their heads, space was cramped. All of the children shared one room and one bed at night.
Facing a drug problem she just couldn't defeat, Aliyah's mother was often unable to pay rent or care for her children. Aliyah bravely stepped up to the plate in such instances, missing school for long periods at a time to serve as surrogate mother to her siblings and cousins.
But, while Aliyah was doing her best to take care of them, there was often no one to care for her. Over the course of several years, Aliyah said she was abused and emotionally worn out.
Aliyah's tragic reality got a much-needed dose of relief when authorities sent the children to live with different relatives. For her part, Aliyah, then 12 years old, was sent to live with her aunt and uncle. While moving from Florida to Texas proved beneficial for Aliyah in many ways, a lot of emotional damage already had been done.
As she grew older, Aliyah increasingly acted out in defiance. She'd lived by her own set of rules for a long time now, so why should she listen to anyone else? Far more troubling, though, she even took out her pain and frustrations by injuring herself. Aliyah's aunt placed her in both school counseling and private therapy sessions, but her resources soon were exhausted.
When one of Aliyah's friends went to live at Cal Farley's, it drew her family's attention to an organization with a nearly 80-year history of success giving young people just like Aliyah a second chance. Aliyah and her aunt quickly began to see what an extraordinary opportunity Cal Farley's Boys Ranch could be for Aliyah as well.
After researching Cal Farley's on their own and making a visit to campus, Aliyah came to live at Boys Ranch soon after her friend. Just a few months after her arrival, Aliyah is still new to Boys Ranch, but has made friends quickly. She's already involved in cross country and basketball, and has sights on track and rodeo.
Aliyah has also taken a keen interest in the Boys Ranch chapel program, and especially looks forward to studying the Bible each week in her home's group devotionals.
"It's pretty cool, because you learn new things each time you read the Bible," she said. "In Florida, I knew who God was, but I didn't have a clue how to live in His way."
In particular, Aliyah is learning to put aside the pains of her past and forgive those in her life who've hurt her. She recently studied Matthew 6:14, in which Jesus instructs his disciples to forgive others.
"I'm still mad at my mom. I'm still working on forgiving her," Aliyah acknowledged. "My house parents say I have a kind heart. I'm trying to keep that … I know my mom messed up, but I'm still trying to forgive her."
Aliyah is also quick to recognize that sometimes God uses painful circumstances to bring about a positive outcome.
"God had a plan to bring me here," she smiled.
In Cal Farley's Christ-centered environment, Aliyah is learning that God's love, like that she receives from her Cal Farley's mentors, isn't conditional.
"We're surrounded by people who love Christ and love us," she said of the friendly people at Cal Farley's Boys Ranch.
Aliyah is also thankful for the prayers and financial support Cal Farley's many friends give her and her Boys Ranch peers.
"I never had (people care about me), and for me to have that now, it's just a blessing," she said. "Knowing that people are checking up on us, it helps remind me I shouldn't give up on myself."
The loving, caring characteristics she sees in the people she comes into contact with at Cal Farley's are inspiring Aliyah to share her budding faith. She couldn't imagine a better Christmas gift, in fact.
"I think Christmas is a time for us to come together and celebrate what God has done for us. I believe that spreading His word is the best gift we could give because it brings more people to God."