Alison & Madison: Stronger connections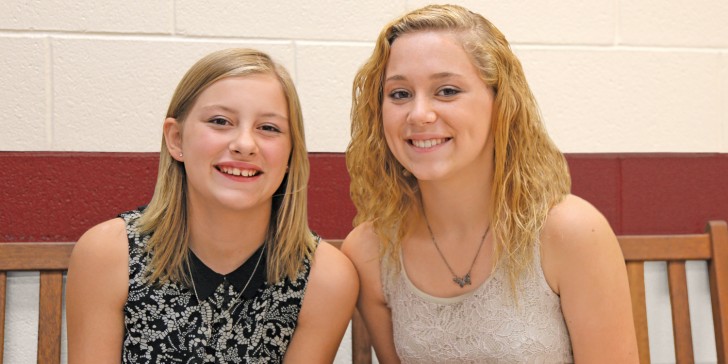 For many people, Christmas is the holiday they most associate with family. Much of our Western Christmas tradition — giving each other gifts, sharing meals or gathering for festive activities — centers on a shared sense of family or community. That strong family connection becomes even more important for siblings living at Boys Ranch, Cal Farley's oldest and most well-known residential campus.
Siblings like Madison, 14, and Alison, 11.
"We came (to Cal Farley's) at different times," Madison recalled. "I came Aug. 1, 2007, so I've been here for a while."
Her sister was only three when Madison and their brother, Jayson, who graduated from Boys Ranch High School last year, came to Cal Farley's Boys Ranch campus.
"I came June 7, 2009," Alison added for good measure.
There's a lot about their youth the sisters don't recall, the memories lost to the fog of an unpleasant childhood.
"I was 6 when I came out here, so I guess (life before Cal Farley's) was really a blur," Madison said. "But, I remember a lot of people coming to live with us, and a lot of people leaving. So, there wasn't really a consistent — our mom and dad, I guess you could say they weren't exactly the parents we needed at the time, but they're still working on that."
Madison and Alison recalled a wide range of issues preventing their family from enjoying any sense of normalcy. Their parents' rocky relationship didn't help, either.
"It was really on and off," noted Madison, easily the more outspoken sibling.
With their parents consumed by their own problems, it frequently fell to Jayson and Madison to share the role of caretakers.
"Jayson normally took care of (us,)" Madison said. "(We) did the cooking. There wasn't a lot of food most of the time, so (Jayson and I) would just go to the stores and take stuff. I know that's not really the best thing — it's probably the worst thing about (our childhood). But, yeah, we took care of each other."
They took care of each other amid household chaos and upheaval that even saw Alison, who wasn't yet old enough to join her siblings at Cal Farley's, change schools eight times in just two years. As a result, school work suffered, and unhealthy behavior became a normal part of life.
Today, years removed from their early struggles, both girls are extremely grateful for the second chance Cal Farley's offered them.
"When we came out to Boys Ranch, it was like a fresh start," Madison said as Alison nodded her approval. "We both got the support we needed, a place to stay and food in our mouths. (Meals weren't) every other day or something. It was really consistent."
Cal Farley's provided Madison and Alison with stability in other areas, too. At Cal Farley's children no longer are pushed to take on a caretaker role, one they were never meant to have as children. Instead, when these children see their sibling safe and cared for, they simply can be children. For her part, Madison is thankful her parents allowed her and her siblings to come to Cal Farley's. But, now and then, there's still a pang of regret at the life that might have been.
"Parents are supposed to be the people in your life that set your childhood," she said. "They set the limitations and the expectations for you and your future. If that's not there …"
Though they might not have ever planned to come to Cal Farley's, the girls are glad for the introduction to faith their experience has provided, too. It's something they said wouldn't have been part of their lives at home.
"I had no idea, when I came (to Boys Ranch)," Madison said. "I was like —"
"God, what?" Alison finished.
"Exactly. So, when I finally got to learn … it made so much more sense," Madison said. "There's actually people that care, and they want you to know there is a God Who loves you and cares about you. There's somebody who loves you, even when you don't think there is."
In Cal Farley's healthy environment, they're making sense of a lot of areas of their lives — and enjoying fun and games they once didn't have time for.
"My hobbies are soccer, basketball, running, playing outside, listening to music, baseball, flag football and football," Alison listed off, matter-of-factly.
While Madison enjoys athletics, too, (her favorites are tennis and cross-country running) she prefers the introspection of music. And, of course, she always has time for her sister.
"We see each other practically every day," Madison said. "I usually will sit with her at chapel. Sometimes, we have sibling days, where … we'll hang out."
Dedicated sibling time is just part of Cal Farley's work to teach children about healthy family relationships. From friends to siblings to houseparents, such interaction takes on new importance during the Christmas season.
"We decorate, and it always smells like cinnamon," Madison said of her group home's traditions.
Alison echoed her sister's thoughts.
"When I smell cinnamon, I always think of my houseparents," she said, describing a large scented candle that makes its annual appearance each winter.
Madison said one of her favorite Christmas memories was made just last year.
"My entire house … made this giant snow ball," she said. "It was bigger than the trash can! And, the entire house stood on top of it, so it was that big. It was giant. We just had the best time. Then, we went inside and made hot cocoa and sat by the fire — it was just perfect."
Two girls who once struggled through life, now smiling, making memories with friends and looking forward to their future lives. That's the epitome of the hope Cal Farley's offers.