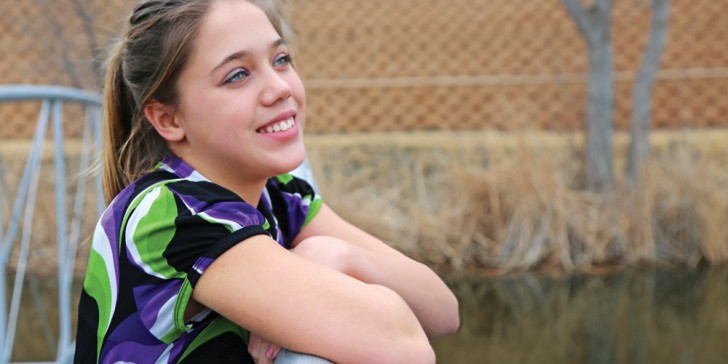 "We disobeyed a lot and we didn't follow the rules."
In her trademark rapid-fire manner, Alex, 12, summed up very simply the source of discord in her home.
Early in her life, Alex didn't think much about what she wanted from her life. She just knew she wasn't happy. "Unstable" she called it.
Alex and her biological sisters, Kalista and Sara, lived with their adoptive parents and sister. The girls' early life hadn't been ideal, but now they were in a stable environment with a family who loved them.
But, still, Alex and her sisters struggled against their parents' discipline.
"We would get mad at our parents," Alex recalled. "We would stomp off (saying) 'We hate y'all!' … We would invite friends over when we weren't supposed to. We would sneak food into our rooms, and all that. We just wouldn't cooperate.
"They would get upset and they would talk to us about it, or they would send us to our room. But, they wouldn't yell at us. They would talk through it because they didn't like yelling at us."
Her parents tried to be patient, and to find ways to effectively discipline. But the rebellion continued. And, for Alex, the strains at home spilled over to school as well. She was a talented student, but her performance didn't show it.
"I didn't get good grades," she said. "I didn't really care about my grades back then."
Alex's parents wanted the best for their girls. After some research, they were sure that was Cal Farley's. Her father showed Alex and her sisters the photos on Cal Farley's website. Alex had lots of questions — about everything from the number of children there to how hard the mattresses might be!
"It was kind of weird," Alex said of her first few days at Boys Ranch. "It was a lot different (than home)."
But, several of her housemates welcomed her as she unpacked and got settled in.
"They folded my laundry," Alex said with a smile. "My friends helped me, they've supported me. The adults supported me."
Alex found herself drawn to Cal Farley's adventure program, which provides residents with excitement and healthy risk-taking, and helps to teach the balance between work and play. Alex enjoys a diverse list of activities, including everything from swimming and horseback riding to rock-wall climbing!
"I signed up for all of (the activity clinics)," Alex beamed.
Cal Farley's has been more than fun and games, though. Trained specialists have helped Alex focus her always-racing mind and apply herself more effectively through an intervention called neurofeedback.
By learning ways to consciously control her brain's reaction to the stimuli around her, Alex is able to achieve the academic results her family always knew she was capable of. And, Alex can apply what she's learning in neurofeedback to fun activities like riding horses.
"You have to be super calm around horses," she said, describing how she'll talk to herself in order to maintain a calm, even keel around her horse.
Alex also has found enjoyment in Cal Farley's chapel program. She said it's opened up a world she didn't know about before coming to live at Boys Ranch.
"Before I came to Boys Ranch … I didn't believe in (God)," Alex said. "But, after I came … I learned about Him … I started believing in Him."
Alex is excited over her upcoming baptism. She enjoys sharing her newfound faith with her friends, though she admitted amid chuckles sometimes she'll tell them about Jesus even when they might not want her to.
From counseling and neurofeedback to chapel and exciting adventures, Alex has had many memorable experiences in her time at Cal Farley's. She's discovered she enjoys basketball and competing in the annual Boys Ranch Rodeo.
Of course, she knows she still has a lot to learn, especially adjusting her own expectations.
"I think I expect too much. I always tell myself 'you have to go more than the extra mile,' you have to be better," she said. "But, in reality, you're not always going to be able to do that."
Still, Alex has made great progress.
"
When I was with my family, I didn't care … what they thought, or what they did for me. … Now that I'm here, (I realize) my family did care about me. … I know they loved me a lot."
And, she's beginning to set goals that will shape the course of her life.
"I expect (life) to be good, steady, stable. … I know I'm going go to college. … I'm going to get a degree in science, I think."
As Alex begins to think about a life in veterinary science, she's also reminded it might not have been possible without those friends she's never even met, who care so much about her, and her sisters and so many other boys and girls at Cal Farley's.
"I would thank them a lot," she said, reflecting on her many blessings. "I don't know how to thank y'all enough."