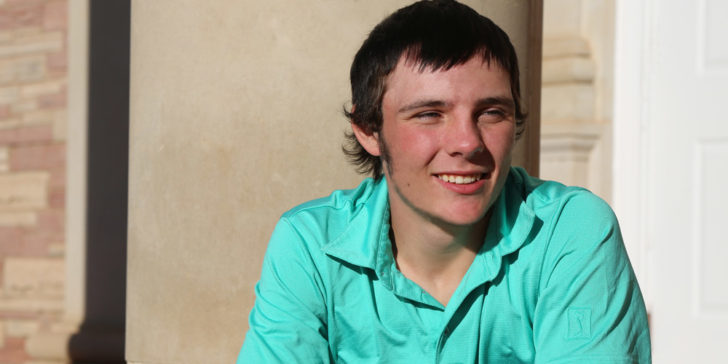 The water was cold on Alex's skin, and his white gown did little to insulate him. But as Alex felt the water cover his face, his initial discomfort slipped away. He emerged dripping wet and breathed in a new breath — one filled with relief and excitement!
"It was a relief knowing that everything bad in my life was down there, buried beneath that water," Alex said.
At 16 years old, Alex had just rededicated his life to Christ through water baptism, leaving behind an attitude and way of living he said no longer makes sense to him.
Before coming to Cal Farley's, Alex lived with his mother, a long-haul truck driver. At first, Alex was left in the care of his older brother while she was on the road. But after his brother joined the Navy, Alex had no single person to care for him when she was on months-long hauls. He continually was shuffled between the homes of family members and friends.
"At some points, I would stay with my brother's best friend," he remembered. "At others, I would stay with my grandpa. I'd stay with a couple of close family friends every now and then."
The lack of structure and consistency in Alex's life helped him develop a troubling habit of skipping school; he recalled going to school just three days in a three-month period. Things eventually caught up to him, however, when truancy officers placed him in a juvenile detention center.
The adults in Alex's life determined the best place for Alex would be with his father, a man Alex said he didn't know very well.
"I'd talked to my dad once or twice in eight years," Alex said.
In a different home with an estranged father and a step-mother with whom he didn't see eye-to-eye, Alex felt lost in an unfamiliar world, like his whole life had been turned upside down.
Just a year before, Alex had begun regularly attending church with friends of his family. But, now, the upheaval around him made Alex uncertain about, well, everything. God became an easy scapegoat.
"Everything bad that could have possibly happened to me slammed into me at once. And, I kind of lost faith. I thought, 'If God is real, then why would He do this to me?'"
Alex moved in with his father's family, but never completely felt a part of his world. And, he still didn't feel he had enough consistency in his life. One day, Alex approached his father about this place he'd heard about. It was called Cal Farley's, and Alex liked what he saw on the Internet about Boys Ranch.
"
I realized, no matter what happened, God did it for a reason.
It took Alex a bit of time to convince his father he wasn't joking, but soon his father contacted Cal Farley's about placing Alex in our care.
"I was the one who brought up Boys Ranch. I felt like I needed more structure," Alex explained.
More than two years into his experience at Boys Ranch, Alex has found the structure he needed — and more. He's tapped into the adventurous side of himself, learning with Cal Farley's Adventure Department and even competing in the annual Boys Ranch Rodeo. He's found that even on the hardest days, rodeo puts a "happy-go-lucky" spin on his attitude.
His time at Boys Ranch also inspired Alex to reconsider his earlier choice to turn his back on God.
Alex heard one of Cal Farley's chapel interns, Will, speak about his own past experiences and how God had been faithful throughout his trials. Alex really related to Will's testimony. He decided to give God another chance.
Alex didn't realize it yet, but it was he who would receive that second chance. And, it would give him a new outlook on his life.
Alex began reading his Bible again and paying attention during chapel and mid-week devotionals. Alex became increasingly convinced God was not only very real, but that He loved Alex every bit as much as the chaplains said He did. Eventually, Alex came to a conclusion.
"I realized, no matter what happened, God did it for a reason."
Alex developed a renewed faith in Christ, and he wanted his peers and mentors to know it. One day after rodeo practice, he told Will he wanted to be baptized. He began a six-week process to prepare for the big day, meeting with a chaplain weekly to review Scripture and ensure that Alex understood exactly what such a decision meant.
Alex's new beginning is one of many at Cal Farley's. With the faithful support of our friends, Cal Farley's is helping young people like Alex find renewed purpose, set goals for potential careers and build the foundations of relationships that will help them the rest of their lives.
"It is amazing to know that every bad thing I've ever done, everything that I regret is gone and I'm forgiven for it," Alex said.