Aletha: God's work in progress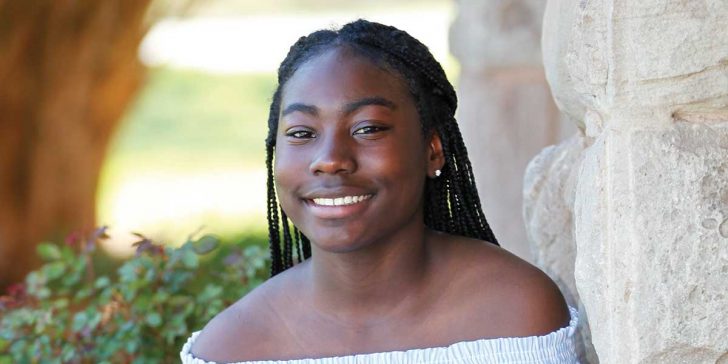 When Aletha went to an eighth-grade girls retreat with her classmates at Cal Farley's Boys Ranch, she was most amazed to learn how her peers view her. During an exercise where the girls wrote their thoughts about each other on paper plates, Aletha was shocked to see the other girls' feelings.
"The other girls wrote things like that I am a fierce lioness with gentleness, and that I can make them smile when they're down," Aletha shared. "I've always thought of myself as athletic and funny. I didn't expect people to call me gentle. It was good to have a chance to see myself like others see me."
Sena Grantham, her housemother when Aletha first came to Boys Ranch at age 11, said she remembers a young girl who was very fearful about what others thought of her.
"
I really understand how God views me now.
"She was hesitant to try the things she really wanted to do," Grantham said. "It has been a pleasure to watch that change and see her turn into a more confident young lady."
Now 13, Aletha wants to be liked and those who get to know her meet a tender, sweet girl with the heart of a lion.
Aletha came to Boys Ranch in 2018. Her single mother was struggling to make ends meet and wanted Aletha to have a better life. The two had relocated from Maryland to North Dakota in search of more affordable living. Aletha knows she is loved deeply by a mother who works long, hard hours at a low-paying job. She had the courage to put Aletha's needs before her own.
Her mother sought to find a safe place where Aletha would be cared for, with people who would love her. Most importantly, she wanted her daughter to get the best education possible and to be surrounded by God.
Imagine how happy her mother and Aletha were to find out about Boys Ranch! It was a prayer answered. Still, it was a hard transition.
"Boys Ranch has given me so much more than I ever expected," Aletha said. "I've had so much opportunity I didn't expect to get … things like rodeo, basketball and track."
It has also been the best adventure ever, Aletha said.
As she lists off some of the many positive experiences she's had — going on hikes, running the Boys Ranch Gauntlet race, riding horses on trail rides, learning how to build a rocket — she says riding a steer at the Boys Ranch Rodeo was perhaps the most unusual thing she's conquered.
"I had friends who were doing it and I thought, 'it's something new and I want to try it,'" Aletha said.
In her time at Boys Ranch, Aletha has discovered she is quite an athlete. She played basketball and ran track in junior high, competing in the 100-yard dash, 400-yard relay, 800-yard relay, long jump and high jump. She is excited to play sports in high school.
"We have always told her we believe she can do anything she puts her mind to," Grantham said. "We love her, and we are very proud of her."
Aletha has ambition to compete in basketball or track at the college level. She does well academically. If she continues to apply herself, she will have the grades to pursue her dream.
"My coaches at Boys Ranch have really motivated me and they will make sure I have the experience I need to compete at college," Aletha said, confidently.
"When Aletha first entered athletics at Blakemore Junior High (at Boys Ranch) you could tell her athleticism was off the charts," remembered basketball coach Kerry Moss, adding, "but she was out of control."
Like a number of the young people Moss has coached, Aletha lacked the self-discipline to gain mastery over her body on the court — and her life beyond it. Fortunately, Moss also knew Aletha was in just the right place to change all that.
"It was not her feet or any other body part, it was her mind," Coach Moss explained. "Over the past year, Aletha has learned to focus, to listen to others and her positive self-talk has improved. She's a great young lady with the potential to grow in her faith, studies, leadership and athletic ability, I really enjoy being around her."
Aletha admires Coach Moss just as much and said he has never let her down, while also pushing her out of her comfort zone.
"I've learned to be a more positive, confident person while I've been here," Aletha said. "I've been surrounded with people who are just always positive, and I began to see how being positive just makes life better. I've had such great examples."
The recent retreat's purpose was to help the young ladies who participated find their identity in Christ before they enter high school.
"I really understand how God views me now," Aletha said.
Today, she believes God sees her as a work still in progress and knows He will be beside her on this adventure she calls life.